Personalized Birth Experience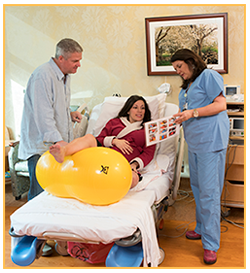 There are many things to consider when having a baby, and the Family Birthing Center at Sentara Martha Jefferson Hospital is designed to make this time exceptional for you and your family. We understand that this is your pregnancy and your experience. We are truly honored to be a part of this special time.
Throughout your pregnancy, we are here to provide you with all of the necessary resources, information and guidance that you need to help you to feel confident with your pregnancy and birthing choices. Let us help you to design a low-intervention birth plan that would work best for you and your pregnancy. Our maternity hospital in Charlottesville offers a variety of free and paid childbirth classes to get you ready for your special delivery. Our caring and dedicated medical team will work with you to understand the type of birth experience you wish to have so we can do everything we can to meet the unique needs of you and your baby.
Report on Low-Intervention Birth